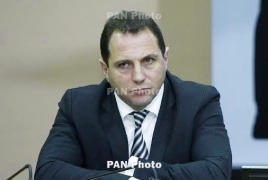 April 11, 2016 - 16:19 AMT
PanARMENIAN.Net - The arms trade market is open to Armenia, but there are some political restrictions connected with export control, Armenia's First Deputy Defense Minister said.
According to Davit Tonoyan, the EU countries and the United States have restricted the supply of goods, which can increase a country's military capacity, to Armenia and Azerbaijan.
"There's a kind of gentlemen's agreement banning delivery of military products to conflict zones. Naturally, in case of necessity, acquisitions are made in countries that have no such restrictions," Tonoyan said.
At the same time, the Deputy Minister stated that Israel offered Armenia all those products it sold to Azerbaijan.
Asked why Armenia didn't buy them, Tonoyan replied: "Because there was no need for that. We found other solutions for the problem. A civilian bus can be stricken with an ordinary grenade launcher too."
"We have carried out strategic defense review in the last two years and prepared two very important documents: the Armed Forces Development Plan and the Weapons and Military Equipment Development Plan. The latter envisages purchase of the most advanced weapons," the official said.
The parties to the Karabakh conflict agreed on a bilateral ceasefire along the contact line which came into force at midday, April 5.
Prior to that, on the night of April 1-2, Azerbaijani armed forces initiated overt offensive operations in the southern, southeastern and northeastern directions of the line of contact with Nagorno Karabakh.
As of April 5, the Azerbaijani side has lost 26 tanks and 4 infantry fighting vehicles, as well as 1 BM-21 Grad multipl e rocket launcher, 1 engineering vehicle, 2 military helicopters and 14 unmanned aerial vehicles. The Azerbaijani side has admitted the loss of 31 fighters, 1 helicopter and 1 unmanned drone, whereas the Armenian side's photo and video materials show dozens of killed Azerbaijani troops, 1 helicopter and 3 UAVs. Opposition media outlets, however, reported on the death of 93 Azerbaijani soldiers, stating that 33 more have been wounded. According to Karabakh authorities, 300 Azerbaijani soldiers were killed in clashes.
14 Karabakh tanks have been neutralized since April 2.