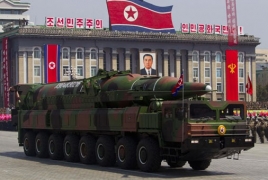 April 22, 2016 - 10:32 AMT
PanARMENIAN.Net - North Korea said Friday, April 22 it wants to send to Seoul the relatives of North Korean citizens it says were abducted by South Korean spies, a highly unusual move by Pyongyang as it attempts to challenge what Seoul calls an embarrassing, high-profile group defection, the Associated Press reports.
Earlier this month, South Korea said the 13 North Koreans defected from a restaurant from an unspecified foreign country in the biggest group defection since North Korean leader Kim Jong Un took power in 2011. North Korea later said the restaurant is located in the eastern Chinese city of Ningbo.
Pyongyang typically accuses Seoul of kidnapping or enticing its citizens to defect, but an attempt to send relatives south of the world's most heavily guarded border for a reunion is extraordinary. Seoul says the restaurant workers are voluntary defectors, AP says.
Pyongyang's state media said Friday that Seoul had been informed that the North will try to send the relatives of the restaurant workers through a border village but did not say when.
"The families of the abductees are eagerly asking for face-to-face contact with their daughters as they were forced to part," said the North Korean message, according to the official Korean Central News Agency.
North Korea has already warned of unspecified retaliation if South Korea refuses to send back the restaurant workers, AP says.
Seoul's Unification Ministry said it hasn't received any message from the North. In a response to an earlier request by the North for the meetings, the ministry said it will not accept the overture because the restaurant workers decided on their own to resettle in the South.
The North has about 50,000 to 60,000 workers abroad, mostly in Russia and China, with a mission to bring in foreign currency, according to Seoul's intelligence service. Pyongyang typically sends relatively affluent, loyal citizens to such jobs, because they are seen as being less affected by foreign cultures, according to experts in South Korea.