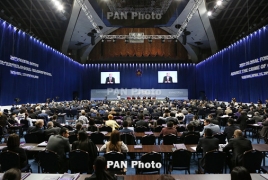 April 24, 2016 - 18:53 AMT
PanARMENIAN.Net - Armenia will host the 3rd Global Forum Against the Crime of Genocide in April 2018, the final statement and recommendations of the 2nd forum held April 23 in Yerevan said.
"We express our deepest gratitude to those who stood for the humanity at the time of humanitarian crisis and genocide, saving hosts of innocent lives through their acts of bravery and selflessness," the statement said.
The first forum was held on the 100th anniversary of the Armenian Genocide, with a resolution taken to hold it next year, as well as once every two years afterwards.
Participants of the April 23 forum hailed the 2015 UN General Assembly resolution establishing December 9 as the International Day of Commemoration and Dignity of the Victims of the Crime of Genocide and of the Prevention of this Crime. In adopting the resolution, without a vote, the 193-member Assembly reiterated the responsibility of each individual State to protect its populations from genocide, which entails the prevention of such a crime, including incitement to it.
The participants of the event also noted that the next global forum should focus on the role of education and mass media in eliminating hatred, intolerance and xenophobia, believing the education and exchange of knowledge to be crucial in dealing with the consequences of the genocide.
On April 23, Global Forum Against the Crime of Genocide was held in Yerevan, in the frameworks of events dedicated to the Armenian Genocide centenary, organized by the Central body for Centennial of the Armenian Genocide, National Assembly of Armenia and Ministry of Foreign Affairs of Armenia; more than 600 parliamentarians, politicians, academicians, prominent genocide scholars from over 50 states attended the event.