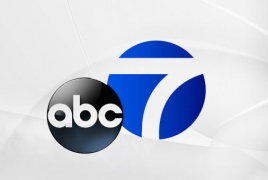 May 3, 2016 - 11:07 AMT
PanARMENIAN.Net - The president and general manager of KABC-TV Channel 7, the local ABC affiliate, issued a statement on Monday, May 2, saying the station regrets "the inclusion in our story of a short bite from the interview denying the existence of the Genocide on historical grounds, which is counter to the position of a majority of historians today who do call it a Genocide," Asbarez reports.
After Asbarez revealed last week that a KABC cameraman was caught on tape calling Armenians "thug-like idiots" and other bigoted comments, the Armenian-American community expressed its outrage by reaching out to ABC7 by phone, email and social media and registered its complaints and grievance.
In response to the community's anger over the incident, the Armenian National Committee of America-Western Region along with the Armenian Youth Federation and the Armenian Bar Association reached out to KABC –TV's leadership and met with the Disney-owned station's president and general manager, Cheryl Kunin Fair, to discuss the incident and to sensitize ABC7's leadership about inclusion of Armenian Genocide deniers on their air.
After Asbarez's article was published, Kunin Fair issued a statement, in which she assured the public about the station's decision not to use the cameraman in question. Monday's statement by KABC-TV goes a step further and pledges that the station would work with the three organizations to better report on the Armenian Genocide, Asbarez says.
"We are gratified that ABC7 responded promptly and effectively to the legitimate concerns raised by our community as a result of both its on-air reporting and the off-air derogatory comments by its former cameraman about the Armenian Genocide and the Rally for Justice on April 24," said ANCA-WR Chairwoman Nora Hovsepian.