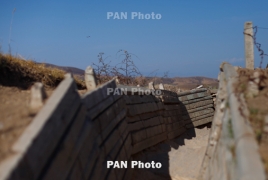 May 7, 2016 - 13:46 AMT
PanARMENIAN.Net - There is no obstacle or complication concerning the Russian arms sale and delivery to Armenia, Deputy Defense Minister Davit Tonoyan said Friday, May 6, Armtimes reports.
"Furthermore, we are working to accelerate the delivery of weapons, planning to have them in Armenia sooner than envisaged by contractual obligations," Tonoyan said in an interview with Haykakan Zhamanak.
"Our experts work effectively with their Russian colleagues."
Asked about rumors of Armenia's intention to buy arms from China, the official noted that the information must be coming from unprofessional sources.
"Weapons acquisition is not an end in itself," Tonoyan said.
"Generally, the Armed Forces' needs are based on demand for specific capacities. It doesn't matter which country produces the arms; the technical standards-quality-price ratio is of great importance, with the Armenian Defense Ministry considering all the options."
Also, Tonoyan reminded that although the arms trade market is open for Armenia, the EU states and the United States still have restrictions on weapons sale to countries involved in conflicts.
Commenting on information suggesting that Azerbaijan is purportedly planning new military actions on May holidays, the Deputy Minister said that the Nagorno Karabakh Defense Army is ready for any developments.
"In any event, the Azerbaijani armed forces, for the first time in 20 years, went on the defensive alongside the already conventional military rhetoric and swaggering," Tonoyan added.
Meanwhile, Head of the Operative Unit, the Armenian Armed Forces General Staff, Major General Artak Davtyan said that Azerbaijan's force concentration along the contact line is quite natural.
"Such moves don't necessarily point to possible escalation," Davtyan said.
"I can say for sure that no large-scale military actions are expected in the near future."