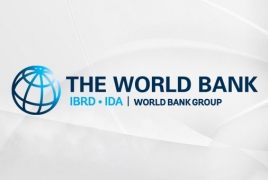 May 21, 2016 - 11:30 AMT
PanARMENIAN.Net - The World Bank on Saturday, May 21 said it was launching a $500 million, fast-disbursing insurance fund to combat deadly pandemics in poor countries, creating the world's first insurance market for pandemic risk, Reuters reports.
Japan has committed the first $50 million towards the facility, which will combine funding from reinsurance markets with the proceeds of a new type of World Bank-issued high-yield pandemic "catastrophe" bond, the bank said.
In the event of a pandemic outbreak, the facility will release funds quickly to affected poor countries and qualified international first-responder agencies. The genesis of the new facility was the slow international response to the Ebola outbreak in 2014, when it took months to muster meaningful funds for affected countries as death tolls mounted.
"The recent Ebola crisis in West Africa was a tragedy that we were simply not prepared for. It was a wake-up call to the world," World Bank President Jim Yong Kim told a media conference call, according to Reuters.
"We can't change the speed of a hurricane or the magnitude of an earthquake, but we can change the trajectory of an outbreak. With enough money sent to the right place at the right time, we can save lives and protect economies," Kim added. The so-called Pandemic Emergency Financing Facility will initially provide up to $500 million that can be disbursed quickly to fight a pandemic, with funds released once parametric triggers are met, based on the size, severity and spread of an outbreak.
The facility was developed in conjunction with the World Health Organization and reinsurers Swiss Re and Munich Re, which are acting as insurance providers. It will include catastrophe, or cat bonds, in which purchasers would lose principal if fund flows are triggered by a pandemic outbreak, the World Bank said.
But the insurance mechanism is limited to certain classes of infectious diseases most likely to cause major outbreaks, including several types of influenza, respiratory diseases such as SARS and MERS, and other deadly viruses including Ebola and Marburg. Kim said the types of qualifying diseases had to be limited in order to secure the insurance policy, for which the World Bank will pay premiums.