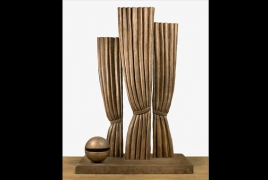 May 24, 2016 - 17:10 AMT
PanARMENIAN.Net - Throughout its prestigious Impressionist and modern art sale on 6th and 7th June 2016, Artcurial will provide French and international collectors the unique opportunity to acquire a piece of art by Marcel Duchamp, Nu sur nu, classified as National treasure. This oil on canvas, essential to the appreciation of Marcel Duchamp's work, was exhibited at the Centre Pompidou during the monographic exhibition devoted to the painter in 2014. Today it is put up for sale by the Humanitarian Association Doctors Without Borders, to which it has been bequeathed to it, Art Daily said.
The session will also include several important surrealist works, including an imposing bronze sculpture by René Magritte, La Joconde – Mona Lisa, a personal item belonging to the artist's historic Parisian merchant, Alexandre Iolas, and a set of works of art from the previous Paul Eluard collection (including Max Ernst, Louis Aragon, Salvador Dali). Two other sets should arouse the interest of collectors: 4 works from the collection of foundry owners Claude and Marcello Valsuani, and 14 paintings from the estate of the painter Georges d'Espagnat.
"Painted a few months before the famous Nu descendant l'escalier in 1912, a cubist work celebrated at the Armory Show in New York the following year, Nu sur Nu is a significant step in the evolution of Marcel Duchamp's work. It starts moving away from fauvism, influenced by symbolism. The classification as a National treasure is further proof of the quality and importance of this painting, already remarkable by its provenance." ---Bruno Jaubert, director of the Impressionist and modern art department, Artcurial
A Marcel Duchamp national Treasure, belonging to Doctors without Borders Marcel Duchamp began composing Nu sur nu in the winter of 1910-1911. It is in this period that his art starts evolving. He seeks new dimensions and expresses interest in Symbolism, sharing the taste for fantastic tales, fragmented body representation and painting expressing Odilon Redon ideas.
Nu sur nu is imagined around two strong thoughts, emergence and nudity, found in the Cubist, Nu descendant l'escalier of 1912. We discover the naked body of a standing woman, arms along the bust, legs tightened. She is emerging from a bluish halo, her head crowned by a green hair (hence the original title: Femme aux cheveux verts). This composition is reminiscent of that of the Red Man (1905) of Odilon Redon. In the background, in a horizontal position this time, moving away from below the halo, one distinguishes once again two women's legs. This overlay of planes, a silhouette appearing from the matrix of a women evokes the themes of childbirth and female mystique.
The last owner of this work was Arnold Fawcus, famous art editor of the second half of the twentieth century, a close friend to Marcel Duchamp. Nu sur Nu is the testimony of their friendship. It is directly acquired from the wife of the collector Henri-Pierre Roché by Arnold Fawcus who will keep it until his death. His wife, Julie Fawcus, bequeathed the painting to Doctors Without Borders at her death.
Today, Doctors Without Borders brings the painting to auction to finance its humanitarian actions. The general public has been presented with the opportunity to discover the work on numerous occasions. It has been included in the most important artist retrospectives. The painting was classified as National Treasure by the French State in 2016.
The surrealism of René Magritte and Max Ernst The auction will include an important Surrealist set composed around two major parts: a bronze by René Magritte, Alexandre Iolas' personal copy, and a collage by Max Ernst from the previous Paul Eluard collection. Another Belgian surrealist, Paul Delvaux will be represented by an Isorel oil on wood panel, Le paradis terrestre, 1959 (estimate: € 650 000 – 850 000 / $ 715 000 – 935 000).
Rene Magritte is without a doubt one of the most prominent Surrealist artists, and who has exercised a considerable influence throughout the world in the twentieth century. He is foremost a painter. He never really ventured into the sculpture, preferring to work the concepts of space, depth and volume in his paintings. In 1966, Alexandre Iolas, his Parisian merchant, encourages him to explore sculpture, as Max Ernst, Joan Miro or Salvador Dali. René Magritte then executes a series of drawings inspired by his previous paintings. They then take shape in volume, following the instructions of the artist regarding dimension. 8 bronzes will be edited in 5 copies each, but Magritte dies before they are completed. La Joconde – Mona Lisa (estimate: € 1 200 000 - 1 800 000 / $ 1 320 000 - 1 980 000) is part of this series. The work finds its origin in a 1960's painting, La Joconde, representing the same pattern of curtains and bells. The sculpture measures 2,48m high, representing the drapes at actual size, while the bell is disproportionate. It is designed to be admired front-on, as a painting. The artist plays on the feeling of strangeness and absurdity by mixing scales. Serge Lemoine, cultural and scientific advisor at Artcurial, explains, «By its scale and subject, La Joconde is far from being an ornamental sculpture. It is stated as a true work of Surrealism. »
From the former Paul Eluard collection, 4 other works representing Surrealism, including a Max Ernst collage, Dada in usum delphini, 1920 (estimate: € 200 000 - 250 000 / $ 220 000 - 275,000). With this work, the importance of collage as of the first plan medium in the artistic movement is demonstrated. If Louis Aragon was one of the earliest collage theorists, to which he devoted his first texts as an art critic, Max Ernst is one of the most representative artists of this artistic process. In 1930, Louis Aragon writes a genuine manifesto on the subject La peinture au défi, of which Artcurial offers a copy in the auction (estimate: € 40 000 - 60 000 / $44 000 - 66 000), celebrating Max Ernst in the category « surrealist collage» (beside Cubist collage, Dadaist collage and collage in the service of propaganda). His first works carried out with this technique date back from the 1920's. In June 2015, Artcurial broke a world record for the sale for a Max Ernst collage in the auction with € 559 800 / $ 615 780.
The Claude and Marcel Valsuan castings, and the works of Georges d'Espagnat On June 6th, Artcurial will disperse an important set of bronze sculptures from the Claude and Marcel Valsuani foundry. Rembrandt Bugatti himself encourages Marcello Valsuani to open his foundry. It is ultimately his son, Claude Valsuani, who will carry out the project. In 1908, in the south of Paris, at 74 rue des Plantes. The anecdote recalls the importance of the relationship which can unite artist and founder. Rembrandt Bugatti is so attached to Valsuani that he gives and dedicates to him the sculpture M. le Professeur L., 1905 (estimate: € 350 000 - 450 000 / $ 385 000 - 495,000). The quality of the Maison Valsuani lost-wax casts will quickly attract the greatest artists of the time such as Auguste Rodin, Antoine Bourdelle, Pablo Picasso... Between the two wars, the foundry launches into edition, namely with François Pompon. This testifies to the extent of the artists' trust, multiplying activities not directly related to their profession. Once again, la Poule d'eau (estimate € 70 000 - 100 000/ $ 77 000 - 110 000) given by the artist to Mrs Claude Valsuani, attests to the strong bond that existed between them. It is the second piece of the collection. Another example, l'Arlequin à l'accordéon by Jacques Lipchitz, 192G (estimate: €90 000 - 160 000 /$ 99 000 - 176 000) reminds us that it is Valsuani who in 1914, grants to this foreign and still unknown artist, his first prints at credit, payable after the sale. These four sculptures, with La Femme à l'écharpe by Aristide Maillol, 1920, estimate: €100 000 - 180 000 / $110 000 - 198 000), have never left the Valsuani family estate.
Finally, on June 7th 2016, a set of 14 works from the estate of the painter Georges d'Espagnat will be offered up for auction. The artist's work evolves during the first half of the nineteenth century. After leaving Morocco in 1898, in the footsteps of Eugène Delacroix, he will participate, from 1904, in exhibitions organised by the Durand-Ruel and Bernheim galleries. He will retain the subjects from Impressionism (women, Parisian life...); he adopts colours and their treatment from Fauvism, particularly visible in Les rochers rouges of 1901 (estimate: € 40 000 - 60 000 / $ 44 000 - 66 000). He will also be influenced by Auguste Renoir (for work on dark circles and pronounced contours) or Pierre Bonnard and Edouard Vuillard (particularly in open-air scenes and compositions including several characters). This syncretism expresses both the artistic trends of the era and the artist's desire to break away.