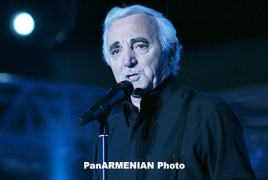 May 25, 2016 - 10:35 AMT
PanARMENIAN.Net - At a recent meeting held in New York, legendary French-Armenian singer Charles Aznavour confirmed the riveting story of courage in which his late parents, Knar and Mish, as well as his sister Aida and himself, had played a key role during the dark days of the Nazi occupation in France, said the IRWF.
With a great sense of humbleness, Aznavour told how his parents gave shelter at their own home to Jews, Armenians and others who were persecuted by the Nazis. By so doing, the Aznavours had given the gift of life to others, while risking their own.
In a personal letter signed by the Chairman of the IRWF, Eduardo Eurnekian and by its Founder, Baruch Tenembaum, Aznavour was greeted on his 92th birthday and informed about two initiatives.
The first one is to commission a special commemorative stamp to be issued by the Israel Postal Authority with the semblance of Mish and Knar Aznavour, Charles's late parents. The second one is to award the Raoul Wallenberg Medal to both siblings, Aida and Charles Aznavour, who as young people helped their parents in their life-saving mission.
On Sunday, May 22, the legend turned 92.