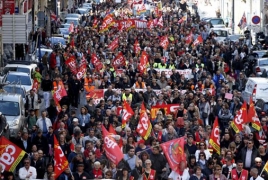 May 31, 2016 - 10:01 AMT
PanARMENIAN.Net - French railway workers are to go on strike as unions continue to protest against planned labour reforms, BBC News reports.
This is expected to further disrupt a transport network already suffering from a shortage of fuel.
French President Francois Hollande has insisted he will not back down over the reforms, which aim to make it easier to recruit and dismiss employees.
Public sector workers in neighbouring Belgium are also going on strike on Tuesday, May 31 over budget cuts.
The national strike there will see police officers, teachers and some civil servants join train drivers and prison guards, who are already on strike.
As well as budget cutbacks, the unions are protesting against changes to working hours and a rise in the retirement age.
In France, further transport disruption is likely later in the week as Paris metro staff are due to begin indefinite action on Thursday and Air France pilots have voted to strike over pay.
On Monday, six of France's eight oil refineries were still halted or running at reduced capacity due to union action.
Workers at the oil terminal in the northern port of Le Havre, which supplies Paris's two main airports, have voted to extend their blockade until Wednesday.
The CGT union is leading the action, supported by other unions including Force Ouvriere and Unef, whereas the more moderate CFDT union backs the labour reforms.
The CGT says the reforms will erode job security without bringing down the country's 10% unemployment rate.
Prime Minister Manuel Valls - who has suggested the reforms could be "modified" - has cancelled a planned trip to Canada while Foreign Minister Jean-Marc Ayrault has said he wants France to remain open for business.
Last week's rallies saw clashes between protesters and police and the Paris tourist board warned that the scenes of violence risked putting off visitors.
"The scenes of guerilla-type action in the middle of Paris, beamed around the world, reinforce the feeling of fear and misunderstanding" after last November's terror attacks which killed 130 people in Paris, it said.
However, 46% of French people remained supportive of the protests despite the disruption to their daily lives, according to a poll on Sunday in the Journal du Dimanche newspaper.