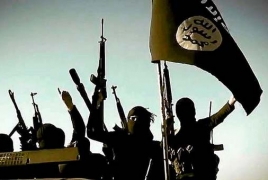 June 1, 2016 - 09:42 AMT
PanARMENIAN.Net - Islamic State fighters halted an Iraqi army assault on the city of Falluja with a counter-attack at its southern gates on Tuesday, May 31 while the United Nations warned of peril for civilians trapped in the city and used by militants as human shields, Reuters reports.
The Iraqi army's assault on Falluja has begun what is expected to be one of the biggest battles ever fought against Islamic State, with the government backed by world powers including the United States and Iran, and determined to win back the first major Iraqi city that fell to the group in 2014.
A week after Baghdad announced the start of the assault, its troops advanced in large numbers into the city limits for the first time on Monday, pouring into rural territory on its southern outskirts but stopping short of the main built-up area.
Baghdad describes the assault to retake the city as a potential turning point in its U.S.-backed campaign to defeat the ultra-hardline Sunni Muslim militants who rule a self-proclaimed caliphate across much of Iraq and Syria.
Falluja, where U.S. troops fought the biggest battles of their own 2003-2011 occupation against Islamic State's precursors, is the militants' closest bastion to Baghdad, believed to be the base from which they have waged a campaign of suicide bombings on the capital less than an hour's drive away.
Retaking it would give the government control of the main population centers in the fertile Euphrates River valley west of the capital for the first time in more than two years.
But the assault is also a test of the army's ability to capture territory while protecting civilians. Although most of Falluja's population is believed to have fled during six months of siege, 50,000 people are still thought to be trapped inside with limited access to food, water or healthcare.