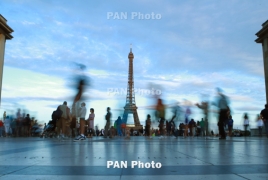 June 1, 2016 - 10:19 AMT
PanARMENIAN.Net - The Paris mayor unveiled plans Tuesday, May 31 for a refugee camp in the French capital as the migrant crisis took on an ever-more deadly turn with 2,500 drowned in the Mediterranean so far this year, AFP reports.
With Europe's worst migrant crisis since World War II peaking for a second consecutive year, the UN refugee agency said some 204,000 people had crossed the Mediterranean to the continent since January.
But figures released on Tuesday showed that more than a third of the deaths had occurred over the past week, when at least 880 people died in a series of shipwrecks of the Libyan coast, the UN refugee agency said, citing information from survivors.
In an sign that France may be taking a more active stance this year on the migrant crisis, Paris authorities were "assessing different sites" for their suitability to host a camp "as soon as possible", Mayor Anne Hidalgo told reporters, according to AFP.
She said the current situation was no longer "tenable", pointing to the example of a makeshift camp that had sprung up in the north of Paris in the past few days where 800 people are living.
And although Germany was the main destination for people fleeing war and poverty, with 1.1 million arrivals in 2015, thousands have also flocked to France in recent months.