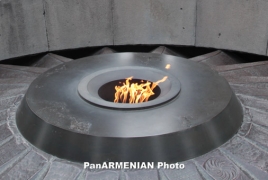 June 1, 2016 - 11:09 AMT
PanARMENIAN.Net - The province of Entre Rios, Argentina on Tuesday, May 31 recognized the Armenian Genocide, approving a law adhering to the National Law 26199, which establishes every April 24 in Argentina as the "Day of Action for Tolerance and Respect between Peoples," Prensa Armenia reports.
The Senate of Entre Rios passed the adherence by unanimous vote of those present "in commemoration of the Genocide that the Armenian people fell victim to and with the spirit that its memory is a permanent lesson in present and future."
Also on Tuesday, the Deputy Governor of Entre Rios and President of the Senate, Adan Humberto Bahl, along with other Senators met with Nicolas Sabuncuyan and Jorge Dolmadjian, members of the Armenian National Committee of South America.
"The meeting was extremely positive and we believe that the Government will enact the law. In addition, this will be the beginning of a way to work together with the province on human rights issues in various fields," said Dolmadjian.
The bill was filed on March 30, 2015 by the then deputy Maria Laura Stratta, who is now Minister of Social Development. On May 12, 2015 it obtained the initial approval in the Chamber of Deputies of Entre Rios.
"Ten years after the enactment of the law that put Argentina in first place in the struggle for the recognition of the Armenian Genocide, it is very important that the representatives of the people of Entre Rios decided to join that path," said Sabuncuyan, Director of the Armenian National Committee of Buenos Aires.
The provinces that have joined the recognition law are: Buenos Aires, Catamarca, Chaco, Chubut, Córdoba, Corrientes, Jujuy, La Pampa, Misiones, Neuquen, Rio Black, San Juan, Santa Cruz, Santa Fe, Santiago del Estero and Tierra del Fuego.