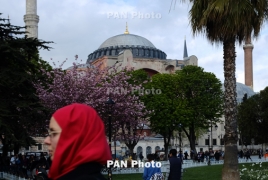 June 1, 2016 - 13:37 AMT
PanARMENIAN.Net - Turkey has been making moves to bring tech business in the country under more localised control, and big U.S. online payments company PayPal became the latest casualty. The company announced that it is suspending business operations in Turkey effective June 6, after failing to obtain a new license for its services, TechCrunch reports.
The closure, PayPal told TechCrunch, will affect tens of thousands of businesses and hundreds of thousands of consumers.
A spokesperson confirmed the closure and also the reason behind it in two separate statements to TechCrunch.
The first statement closely follows the message in Turkish on PayPal's local site regarding the denial of a license from the financial regulator BDDK.
"We are sorry to announce that PayPal is suspending its business operations in Turkey," the company noted in a written note. "Effective from June 6, 2016, our customers in Turkey will no longer be able to send or receive funds with PayPal. Customers will still be able to log in to their PayPal accounts and withdraw any balance on their accounts to a Turkish bank account, TechCrunch says.
Asked why the license was denied, the spokesperson said that it was a result of new rules that require IT systems to be localized in the country. PayPal distributes its IT across several global hubs.
Turkey has been in the tech spotlight in recent months, but not for particularly positive reasons. In April, personal data for some 50 million Turkish citizens (more than half of its population of 80 million) was leaked online, seemingly by an activist (or activists) who were releasing the data to highlight the country's ageing IT infrastructure, blaming the problem on President Recep Tayyip Erdogan and his tech policies.