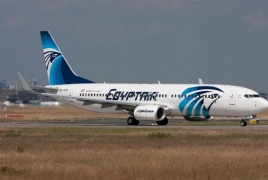 June 1, 2016 - 16:56 AMT
PanARMENIAN.Net - Signals have been detected that are likely to be from one of the black boxes of EgyptAir flight MS804 that crashed in the Mediterranean last month, Egypt said Wednesday, June 1, according to AFP.
The flight recorders could help solve the mystery of why the Airbus A320 plunged into the sea with 66 people on board en route from Paris to Cairo on May 19.
The signals were picked up by a French navy ship that is searching for the wreckage using specialist equipment to listen for the pings emitted by the flight recorders, the ministry of civil aviation said.
It said the signals were "assumed to be from one of the data recorders".
Some of the wreckage has already been pulled from the Mediterranean along with passenger belongings. No survivors have been found, AFP says.
Another vessel sent by Deep Ocean Search (DOS), a private company hired to help find the black boxes, is on its way to the area carrying a ship with a robot capable of diving up to 3,000 metres to retrieve the recorders.
The ship is due to arrive at the site within a week, the ministry said.
"Extensive search efforts are being carried out to locate the two data recorders in preparation for their retrieval," the ministry said.
The black boxes have enough battery power to emit signals for four or five weeks.
The French navy surveillance vessel La Place which detected the signals is equipped with three deep-water devices known as Detector 6000s provided by French deep water search firm Alseamar, AFP says.
Investigators have said it is too soon to determine what caused the disaster although a terror attack has not been ruled out.