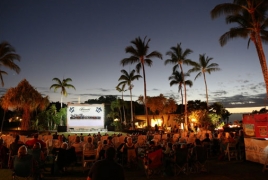 June 4, 2016 - 13:20 AMT
PanARMENIAN.Net - "The Closer", a Brooklyn-set tale of betrayal and greed among friends, won the best feature prize at the Big Island Film Festival, which wrapped earlier this week in Hawaii. Eli Hershko wrote, produced and directed the picture, Variety reports.
"Catfish Blues," the tale of a reclusive young boy who begins to open up when he joins a 90-year-old woman looking for lost animals, scored two trophies: best family feature and audience choice feature. Junior Bonner directed.
Writer/director James Raue's mockumentary "Psychoanalysis" received the prize for best foreign feature. The pic, which follows Australia's top suicide prevention specialist as he attempts to discover why five of his patients killed themselves in a single week, was made for $10,000, said Raue.
The best Hawaii feature award went to "Throuple," a tale of love and madness that spins around a conflicted young couple as they interact with a polyamorous trio and a mysterious loner. Phillips Payson directed.
The Big Island Film Festival celebrated its 11th edition this year.
(Pictured above: "Psychoanalysis" director Janes Raue, left, with festival co-founder Leo sears. Photo by Kirk Lee Aeder.)
Here's a complete list of the winning films along with their descriptions in the official festival program:
Best Student Short: "Breathe" Dr. Filip Kardel is an ambitious Polish neurosurgeon working in America, struggling to cope with the loss of his wife, Ania. Memories of her untimely death and his neglecting her in favor of his career continue to haunt him. Producer: Christina Dow, Director: Paul Kowalski, Writer: Paul Kowalski, Daniel Gentile. Country: USA.
Best Hawai'i Short: "The Surrender Call" Based on the true story of Herbert Yanamura, a Japanese-American soldier and linguist with the Military Intelligence Service, who saved the lives of over 1500 people during the Battle of Okinawa in 1945. Producer: Stacey Hayashi, Director/Writer: Alexander Bocchieri. Country: USA.
Best Family Short: "Rated" Maggie, a wife and mother, must find the courage to own up to her own behavior when she wakes up to a world where every adult has received a YELP-like rating floating above their head. Producer: John Fortson, Lindsay Lanzillotta, Heath Ryan, Andrew Troy, Christie Lynn Smith, BD Gunnell, Director: John Fortson, Writer: John Fortson, Christie Lynn Smith. Country: USA.
Best Foreign Short: "Regression" The lines of reality are blurred, forever changing the lives of a psychotherapist and his patient. Producer: Leanne Melissa Bishop, Michael P. Mason, Milan Andrijasevic, Director/Writer: Milan Andrijasevic. Country: Canada.
Best Short: "Monty and the Runaway Furnace" A kind, old maintenance man is in love with the furnace that powers the factory he works at because he thinks it's his deceased wife. Producer: Vinnie Taranto, Director: Joe Taranto, Writer: Joe Taranto, Amanda Steinhoff. Country: USA.
The Barbara Award: "New Generation" After playing a new video game, teens start to change in some unsettling ways. Producer: Helaine Grant, Heather Manley, Steven Lesser, Director/Writer: Nasya Kastelik. Country: USA.
Best Foreign Feature: "Psychoanalysis" Paul Symmonds, the country's top suicide prevention specialist, has just lost five of his clients to suicide within a week period. He arranges for a documentary crew to follow him as he attempts to prove his clients were actually murdered by a rival. Producer: James Raue, Julia Kelly, Adam Wise, Neil Peplow, Nathalie Peter-Contesse, Tony Prescott, Director/ Writer: James Raue. Country: Australia.
Best Hawai'i Feature: "Throuple" A conflicted young couple, a polyamorous trio trying to dig a hole, and a mysterious recluse spin a tale of love, murder and madness. Producer: Paul Valdes Jr., Director: Phillips Payson, Writer: Zoe Eisenberg. Country: USA.
Best Family Feature: "Catfish Blues" A young reclusive boy stuck spending the summer in a small town with his aunt and uncle begins to open up as he joins a 90 year old woman looking for lost animals. Producer: David Tadman, Director: Junior Bonner, Writer: Michael Worth. Country: USA.
Best Feature: "The Closer" A tale of betrayal and greed between 3 friends set against the backdrop of the boom and bust brooklyn real estate market. Producer/Director/Writer: Eli Hershko. Country: USA.
Screenplay: Amanda Keener, "Comic Book Kings" (This was a written script submitted to the screenplay contest.)
Audience Choice Short: "Water Girl" A young girl is left at a Mexican orphanage by her father who is involved in human trafficking. Producer: Richard Gonzalez, Karen Rose, Director: Richard Gonzalez, Writer: Karen Rose. Country: USA.