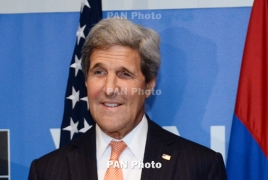 June 15, 2016 - 14:23 AMT
PanARMENIAN.Net - U.S. Secretary of State John Kerry met his Iranian counterpart in Norway on Wednesday, June 15 to once again discuss Iran's complaints that it's not getting the sanctions relief it deserves under last year's landmark nuclear deal, the Associated Press reports.
Kerry also raised the importance of Iran using its influence with Syria's government to ensure humanitarian aid deliveries and respect a fragile truce with moderate opposition groups. He said later that the truce was "frayed and at risk" and that it was "critical for a genuine cessation of hostilities to be put in place." He indicated that U.S. patience with Syria and its Russian and Iranian allies was wearing thin.
Kerry's meeting with Iran's Foreign Minister Mohammad Javad Zarif in Oslo came just a day after Iran's supreme leader renewed accusations that the U.S. is not living up to its commitment to ease sanctions under the agreement that gave Iran the relief in exchange for curbing its nuclear program.
"The two discussed progress on the continuing implementation of the (nuclear deal), including issues related to banking and relief of nuclear-related sanctions," the State Department said in a brief statement after the 70-minute closed-door talks in a downtown Oslo hotel, AP says.
Zarif said "psychological remnants" of the previous sanctions regime were preventing European and Asian banks from conducting legitimate business with Iran.
In response, State Department spokesman John Kirby told reporters in Washington on Tuesday that the U.S. was going out of its way to clarify what is now allowed. He said any "psychological remnants" hindering legal business with Iran are related to Iranian behavior.
"The United States is not standing in the way, nor will we stand in the way, of business that can be legitimately done and permitted with Iran since the (nuclear deal) took effect," he said.
"What makes business nervous, what makes business reticent isn't some lack of education or effort by the United States, but when they see missiles being shipped to Hezbollah, missiles being fired at U.S. aircraft carriers, and support to terrorist groups," Kirby said. "That's what makes business nervous. Those are the psychological remnants which need to be lifted."
Kirby would not discuss reports from Iran that U.S. aviation giant Boeing had signed a deal to sell planes to the country's main airline.