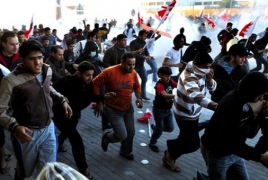 June 21, 2016 - 10:52 AMT
PanARMENIAN.Net - Bahrain's government on Monday, June 20 stripped the country's leading Shiite cleric of his nationality in a move that brought thousands of protesters into the streets and threatened to further ignite sectarian tensions across the region, the Associated Press reports.
The Bahrain News Agency quoted the Interior Ministry as saying that Sheikh Isa Qassim had played a key role in creating an extremist sectarian atmosphere and had formed groups that "follow foreign religious ideologies and political entities," an apparent reference to Shiite-majority Iran.
The move was welcomed by Bahrain's Sunni-led allies but condemned by Shiites, and could serve as another flashpoint for tensions stoked by the rivalry between Saudi Arabia and Iran.
After the decision was announced, thousands of Qassim's supporters gathered outside of his house in the mostly Shiite village of Diraz, carrying posters and chanting religious slogans as well as slogans against Bahrain's king and the Saudi monarchy. It was the largest protest in at least two years, AP says.
Sayed al-Wadaei, director of advocacy at the Bahrain Institute for Rights and Democracy, said in a statement that the decision will escalate tensions and may lead to violence.
The tiny island nation off the coast of the Arabian Peninsula has been in turmoil since a 2011 uprising backed by majority Shiites demanding greater rights from the Sunni-led monarchy. Bahrain crushed the protests with the help of Saudi Arabia and the United Arab Emirates, Sunni allies suspicious of Iran and opposed to growing Shiite influence in the region.
Saudi Arabia's senior council of clerics, who follow an ultraconservative Sunni ideology that is at odds with Iran's Shiite clerical leadership, welcomed the actions taken by Bahrain.
Iran condemned the decision. In a statement on the semi-official ISNA news agency, Iran's Foreign Ministry urged Bahrain's authorities to hold a "serious national dialogue", though previous efforts have failed.