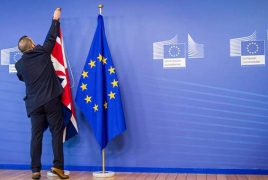 July 9, 2016 - 14:14 AMT
PanARMENIAN.Net - The hopes of more than 4.1 million people who signed a petition calling for a second referendum on the EU have faded, after a response from the government saying it was a "once in a generation vote," The Guardian reports.
Parliament must consider all petitions that reach a threshold of 100,000 votes for a debate and, although the decision has yet to consider the motion for a debate, the Foreign Office responded to the signatories by email on Friday, July 8 evening, pointing out that over 33 million have had their say.
Referring to the wording of the petition, which asks for a second vote to be held because the vote to leave did not surpass 60% of the vote and the turnout was less than 75%, the government response states that the European Union Referendum Act did not include rules about minimum turnout.
The statement said: "The act was scrutinized and debated in parliament during its passage and agreed by both the House of Commons and the House of Lords. The act set out the terms under which the referendum would take place, including provisions for setting the date, franchise and the question that would appear on the ballot paper. The act did not set a threshold for the result or for minimum turnout.
"The prime minister and government have been clear that this was a once in a generation vote and, as the prime minister has said, the decision must be respected. We must now prepare for the process to exit the EU and the government is committed to ensuring the best possible outcome for the British people in the negotiations."