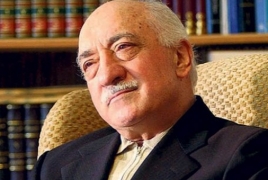 July 16, 2016 - 11:11 AMT
PanARMENIAN.Net - A lawyer for the Turkish government, Robert Amsterdam, said that "there are indications of direct involvement" in the coup attempt by Fethullah Gulen, a Muslim cleric who is living in exile in Pennsylvania, the Associated Press reports.
He said he and his firm "have attempted repeatedly to warn the U.S. government of the threat posed" by Gulen and his movement. According to Turkish intelligence sources, he said, "there are signs that Gulen is working closely with certain members of military leadership against the elected civilian government."
The president of a group that promotes Gulen's ideas, the New York-based Alliance for Shared Values, denied the charges. Y. Alp Aslandogan told The Associated Press "we categorically deny such accusations and find them to be highly irresponsible." Earlier in the evening, the alliance said, "we condemn any military intervention in (the) domestic politics of Turkey."
Trained as an imam, or prayer leader, Fethullah Gulen gained notice in Turkey some 50 years ago, promoting a philosophy that blended a mystical form of Islam with staunch advocacy of democracy, education, science and interfaith dialogue. Supporters started 1,000 schools in more than 100 countries, including about 150 taxpayer-funded charter schools throughout the U.S. In Turkey, they have run universities, hospitals, charities, a bank and a large media empire with newspapers and radio and TV stations.
Turkish President Recip Tayyip Erdogan has long accused Gulen of plotting to overthrow the officially secular government from a gated 26-acre compound in Pennsylvania's Pocono Mountains. Gulen is rarely seen in public and has been put on trial in absentia at least three times, AP says.
The U.S. has shown little inclination to send Gulen back to Turkey. The Justice Department has declined to comment on Gulen's case. In an interview with the AP early this year, Aslandogan, of the Alliance for Shared Values, said: "(Gulen) said that the United States has a long tradition of democracy and rule of law. ... They will see that these are politically oriented charges, and they will not allow Erdogan to spread his ambition into the United States.