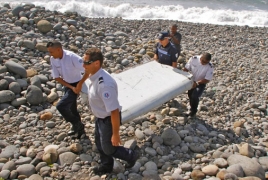 August 29, 2016 - 18:26 AMT
PanARMENIAN.Net - A South African hotelier said Monday, August 29 he had picked up a piece of aircraft wreckage off the Mozambican coast in the latest possible find of debris from the missing MH370 flight, AFP reports.
Mozambique's aviation authorities in Maputo said they had been informed of the discovery, but were yet to receive the item.
Australia, which is leading the search for the aircraft which vanished in 2014 with 239 people onboard, has determined that five pieces of debris found in Mozambique, South Africa and Mauritius almost certainly came from the plane.
"I found this piece on the beach in front of a lodge called Linga Linga Lodge on Thursday last week," Jean Viljoen, a hotel manager in Mozambique's southern province of Inhambane, told AFP.
"It is kind of triangular in shape, it's 1.2-metres by-1.2 metres across, and it looks like it's been in the ocean for a while."
He said it was red and white, with stickers that had some readable numbers.
The piece has been handed to local police, AFP says.
The latest debris was found around 280 kilometres north of Xai Xai where a South African boy picked up a suspected piece in December 2015.
It is 220 kilometres south of the spot where another possible piece was found by an American lawyer in March this year.
The first debris linked to MH370 -- a wing part known as a flaperon -- was washed up on the French Indian Ocean island of Reunion in July 2015.
The Boeing 777 vanished on March 8, 2014 during a Kuala Lumpur-Beijing flight.