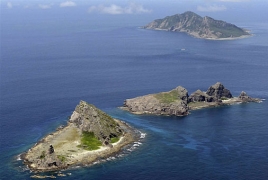 September 2, 2016 - 11:01 AMT
PanARMENIAN.Net - China is tightening its regulation of online maps to clarify its territorial claims, state media reported Friday, September 2, a move that comes amid sharpening disputes with its neighbors over islands in the East and South China Sea, the Associated Press said.
The government has noticed that some maps posted online were inaccurate and it would increase checks and order corrections to protect "national sovereignty and interests," the Xinhua News Agency said.
It cited incorrect drawing of national boundary lines, saying some "territorial islands were mistakenly left out" — an apparent reference to waters and islands China claims in the South and East China Seas.
Such practices "have harmed China's territorial sovereignty, national security and interests and may impair the international community's understanding of the position and claims of the Chinese government."
The order follows an international arbitration panel's ruling in July invalidating China's South China Sea maritime claims and criticizing the harm its activities are causing to the marine environment.
Beijing rejected the ruling and said it would continue work on man-made islands it has built by piling sand atop coral reefs.
It wasn't clear how the government would force websites to comply or whether it would seek to apply the regulations to sites based outside the country.
China already blocks a wide range of overseas websites, including those belonging to news outlets, social media, government and non-governmental organizations.