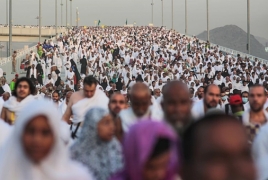 September 10, 2016 - 10:17 AMT
PanARMENIAN.Net - Nearly 1.5 million pilgrims have converged on western Saudi Arabia for the annual hajj where new measures aim to prevent a recurrence of last year's stampede which killed around 2,300, AFP reports.
The stampede legacy has contributed to renewed tensions between Saudi Arabia and its regional rival Iran, which is not sending pilgrims for the first time in nearly three decades.
While the main rites of the six-day event begin on Saturday, pilgrims have already been swirling around the holy Kaaba at the Grand Mosque in Mecca, a procession that continues day and night.
It is one of the first rites of the pilgrimage, which is among the largest religious gatherings in the world.
The hajj is one of the five pillars of Islam, which capable Muslims must perform at least once, marking the spiritual peak of their lives.
Rich and poor alike come dressed in the same white garments.
In one of several safety measures implemented after the stampede, access to the Kaaba is suspended during prayers, and the walk around it is stopped to avoid overcrowding, AFP says.
The Kaaba is a black cubic structure that Muslims across the globe face while they pray.
Security has also been reinforced around Islam's holiest site, where officers in red berets and camouflage uniforms man green plastic barricades to control the crowd.
During the main weekly Friday prayers, the white-clad throng made the area around the Kaaba resemble a snow-dusted field from above.
Worshippers overflowed into surrounding streets shut to allow access for hundreds of thousands of people as a helicopter monitored the scene.
Pilgrims have also been told to follow the rules.