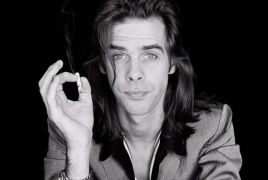 September 10, 2016 - 16:22 AMT
PanARMENIAN.Net - "Nothing really matters when the one you love is gone", sings an emotionally torn Nick Cave in the black and white video. He's singing about a woman in a red dress in a supermarket but the line can relate to anyone - and in the context of his sons death is truly heartbreaking to hear, Gigwise said.
The album dropped on September 9 worldwide following the release of the Bad Seeds' most critically and commercially successful release in a long time, Push The Sky Away, Gigwise said.
Nick Cave began writing sessions for The Skeleton Tree at Retreat Studios in Brighton, and had further sessions at La Frette Studios France in Autumn 2015 before completing it this year.
Cave's One More Time With Feeling, a 3D film which delves into the "tragic backdrop of the writing and recording of the album" is a "stark, fragile and raw, and a true testament to an artist trying to find his way through the darkness," according to a press release.
Due to demand cinemas have scrapped the idea of only showing it for one night and now have screening on the 9, 10 and 11 of September too.