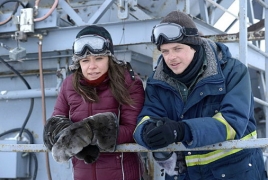 September 15, 2016 - 14:14 AMT
PanARMENIAN.Net - Fox and Netflix will handle U.S. distribution of romance-drama "Two Lovers and a Bear", starring Dane DeHaan and Tatiana Maslany, Variety has learned exclusively.
The deals were announced Wednesday, a day after the North American premiere at the Toronto International Film Festival. Fox has secured the home entertainment rights and following that release, the film will be available on Netflix in early 2017.
"Two Lovers and a Bear," directed by Kim Nguyen, premiered in the Directors Fortnight section of the Cannes Film Festival. The film is produced by Roger Frappier and is set near the North Pole, in a town of 200 souls, where roads lead to nowhere and two souls try to find inner peace.
The film was shot in Iqaluit, the capital of the Canadian territory of Nunavut and its only city.
"We chose to release the film in the US with Netflix and Fox due to their ability to bring our bold filmmaker's vision to the widest possible audience," said executive producer Jeff Sackman who handled the film's sales.
Nguyen previously directed "The Marsh," "Truffle," "City of Shadows" and "War Witch."
"'Two Lovers and a Bear' is a film whose special love story was brought to life thanks to the dedicated cast and crew who persevered through the production's harsh conditions," said Nguyen. "The amazing performances of Dane and Tatiana brought the truth of the project to life."
DeHaan stars in the upcoming "Valerian and the City of a Thousand Planets." Maslany stars in "Orphan Black" and will be seen in "Stronger" opposite Jake Gyllenhaal.