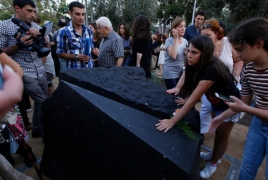 September 19, 2016 - 13:20 AMT
PanARMENIAN.Net - Unveiled Saturday, September 17 evening in Grand Park in downtown Los Angeles, a black rock is split in half, chiseled on one side and smooth on the other to memorialize not just the Armenian Genocide, but also survival, the Los Angeles Times reports.
The Armenian Genocide Monument is ringed by metal bars embedded in the ground and etched with the words of Armenian-American writer William Saroyan: "In the time of your life, live — so that in that wondrous time you shall not add to the misery and sorrow of the world, but shall smile to the infinite delight and mystery of it."
"We wanted something that was uplifting and also spoke to a much broader audience," said photographer Levon Parian, one of a team who created the monument.
The five-ton piece was sculpted by Glendale architect Vahagn Thomasian from volcanic rock quarried from Armenia's Ararat Valley.
The split in the monument represents the disruption of the genocide, which claimed the lives of 1.5 million Armenians under the Ottoman Empire, which became the modern republic of Turkey. The Turkish government denies the genocide.
"The rough part resembles [the period] after the genocide when the Armenian people struggled and tried to survive," Thomasian said. The smooth half "represents the present, future, new generations."
Southern California is home to the largest Armenian community outside of Armenia. More than 200,000 people of Armenian descent live in Los Angeles County.
The idea for a Los Angeles monument grew out of last year's iWitness installation in Grand Park, which marked the centennial of the genocide with huge portraits of survivors.
County Supervisor Michael Antonovich told the iWitness team that he would like a permanent memorial. Thomasian settled on something "very simple" that was, he said, both less and more.