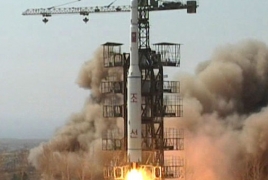 September 21, 2016 - 10:32 AMT
PanARMENIAN.Net - Two U.S. supersonic bombers flew over South Korea on Wednesday, Sept. 21 with one of them landing at an air base 40 km (25 miles) south of the capital, according to a Reuters witness, the second such flight since North Korea's Sept. 9 nuclear test, the news agency said.
The U.S. Forces Korea said in a statement the flight by a pair of B-1B Lancer strategic bombers based in Guam was intended as a show of force by South Korea's ally and its commitment to preserve the security of the peninsula and the region.
The United States flew two B-1 bombers on Sept. 13 escorted by U.S. and South Korean fighter jets in a show of solidarity with Seoul.
North Korea has ignored global condemnation since conducting its fifth nuclear test on Sept. 9 and this week said it had successfully tested a new rocket engine that will be used to launch satellites, again in violation of U.N. sanctions.
The leaders of the United States and China, which is the North's main diplomatic ally and economic benefactor, condemned the latest nuclear test and pledged to step up cooperation at the United Nations and in law enforcement channels.
U.N. diplomats say the two countries have begun discussions on a possible U.N. resolution in response to the nuclear test earlier this month, but Beijing has not said directly whether it would support tougher steps against North Korea.
North Korea has been testing nuclear weapons and ballistic missiles at an unprecedented rate this year, including the launch of a satellite in February that was widely seen as a test of long-range ballistic missile technology.