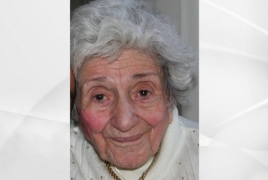 October 12, 2016 - 13:28 AMT
PanARMENIAN.Net - Clara Russian of Arlington, Mass, one of the last Armenian Genocide survivors and past active member of the Watertown Armenian community, passed on October 5. She was 101 years old, The Armenian Weekly reports.
Clara Movsesian Russian was born on Oct. 28, 1914, in the village Yegheki, Kharpert province, Armenia. Her mother, Haigouhi Echmalian had moved to Yegheki from Hussenig to work as a teacher and was matched with Nishan Guetchudian, who had just returned from America to find a bride.
The couple was not married two years when Turkish gendarmes entered Yegheki in Spring 2015 and marched the men out of the village. Nishan was never seen again. What followed was an arduous, sometimes grueling journey through the Ottoman Empire, the Middle East, and Europe, across mountains, gorges and seas, spanning 10 years, from Yegheki to Agn, back to Yegheki, on to Aleppo, Marseilles, and then Cuba.
In Cuba, they were greeted by Haigouhi's sister Teriz Kalousdian, who had already emigrated to the U.S. many years before, arranged a means for them to enter the United States. While in Cuba as guests in an Armenian acquaintance's home they briefly met a funny young man with jade green eyes and strange wavy, kinky hair named Hagop Rousyan, who worked as a shoe shiner. Clara would 15 years later randomly meet this same man again, now a successful grocer based in Somerville, Mass., known as Jack Russian, and marry him. Jack himself was from Kharpert, born in 1904.
After marrying, Clara and Hagop eventually moved into a colonial house in Arlington, Mass. Clara lived in that same home up until a week before her passing. They had two children, Arsen and Linda, and enjoyed several cats and dogs over the years.