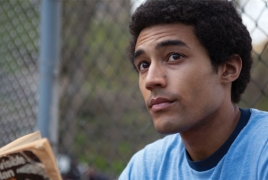 November 22, 2016 - 12:03 AMT
PanARMENIAN.Net - As President Obama prepares to leave office after eight years, Netflix is presenting "Barry", a movie dramatizing the 44th president of United States as a 20-year-old college student in New York City, Variety said.
The movie, set to debut on Netflix on Friday, Dec. 16, stars Australian actor Devon Terrell as the young Obama arriving at Columbia University in the fall of 1981 to begin his junior year — a pivotal moment in his life that laid the foundation for his views on race, government, and what it means to be an American. "Barry" depicts Obama struggling to maintain a series of increasingly strained relationships with his Kansas-born mother, Ann Dunham (played by Ashley Judd), his estranged Kenyan father, and his classmates.
In the trailer, a fellow student tells Obama that because he's of mixed race, he can fit in anywhere. "I fit in nowhere," Obama responds.
Netflix acquired rights to "Barry" after its premiere at the 2016 Toronto International Film Festival. The film's director, Vikram Gandhi ("Kumaré," HBO's "Vice"), who is a Columbia University grad, approached fellow alum Adam Mansbach (author of "Go the F— to Sleep") on the project and Mansbach penned the script.
Variety's Owen Glieberman called the movie "at once moving and revealing" in his review. "The film is rooted in the murky, drifting, sleep-late-and-get-stoned-and-do-whatever nature of college life that the movies almost never get right," Glieberman wrote. "This one does, and that's one reason it feels bracingly authentic."
"Barry" is a joint production between Black Bear Pictures and Cinetic Media, produced by Cinetic's Dana O'Keefe and Black Bear's Teddy Schwarzman and Ben Stillman. The movie is the first production for Jon Sloss' Cinetic.
The cast of "Barry" includes Jenna Elfman ("Friends With Benefits," "Big Stone Gap"), Anya Taylor-Joy ("The Witch"), Jason Mitchell ("Straight Outta Compton"), Ellar Coltrane ("Boyhood"), and Avi Nash ("Learning to Drive," "Silicon Valley").