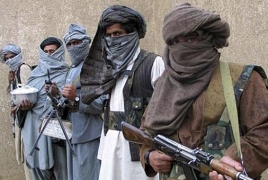 November 24, 2016 - 10:39 AMT
PanARMENIAN.Net - In the year before Qari Naib blew himself up on Nov. 12 inside a NATO base near Kabul killing four Americans, Afghan intelligence warned the U.S. military at least twice that a worker could be planning an attack, government and security officials said, according to Reuters.
The Afghan officials also said they repeatedly asked Western forces to share information about local employees at the vast Bagram air base in order to check for "suspicious people among them", but were refused.
When asked about the information sharing, NATO spokesman Captain William Salvin said NATO forces "routinely partner with ANDSF (Afghan National Defence and Security Forces) on all elements of security, to include information sharing.
"We maintain a strong, day-to-day working relationship with our Afghan counterparts but due to operational security we do not get into specifics about what is shared."
According to Afghan authorities, the U.S. military was cooperating closely now.
"After this attack, American forces have agreed to share that information about their Afghan workers with us," said Wahid Sediqqi, the governor's spokesman for Parwan province where the sprawling, heavily fortified base is located.
Authorities subsequently discovered that Naib, a known Taliban militant before undergoing a government de-radicalization program, was using a fake name, Qari Enayat, at work.
Many intelligence leads turn out to be false and it is not clear whether better coordination would have unearthed Naib's true intentions in time to prevent him killing two U.S. soldiers and two contractors and wounding at least 15 others, in one of the worst assaults on U.S. forces for years.
But the first attack inside one of NATO's most secure bases has raised questions about Western forces' screening of local workers and about program designed to reintegrate insurgents into society.
Since the Bagram attack, the base has been in near-lockdown, with few Afghan workers now permitted inside.
Only 200 of an estimated 3,000 Afghans are believed to be allowed to return to work for now, police in Bagram said.