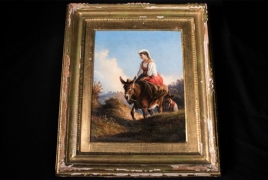 December 10, 2016 - 17:01 AMT
PanARMENIAN.Net - U.S. Immigration and Customs Enforcement and U.S. Customs and Border Protection repatriated a page from a 14th century manuscript and a 19th century Carelli painting to the government of Italy at a ceremony Friday, December 9 at the Italian Embassy in Washington, Art Daily said.
"The return of stolen artwork and other cultural artifacts is a great example of the work ICE, along with our colleagues from U.S. Customs and Border Protection and foreign counterparts such as the Italian Carabinieri, does around the world to combat transnational organized crime," said ICE Director Saldaña. "I commend the special agents of ICE Homeland Security Investigations (HSI) who worked hand-in-hand with our sister agency to ensure these cultural treasures are returned to their rightful owners."
The illuminated manuscript, known as Codex D, was created between 1335 and 1345. On an unknown date, a page with the initial L depicting Saint Lucy was removed. In 1952, the page was purchased in good faith by the Cleveland Museum of Art after it was incorrectly labelled. Many years later, the missing page was discovered by art historians in an online catalogue. That page will now be returned to its home country in time for St. Lucy's feast day on December 13.
"Today's ceremony marks another important stepping stone in the long standing cooperation between the Governments of the United States and Italy in the field of cultural promotion and protection of cultural heritage. It also underscores Italy's unwavering commitment to repatriate national treasures unlawfully scattered throughout the world," said Italian Ambassador to the United States Armando Varricchio. "The repatriation that we celebrate today of the "Pagina Miniata" from the 14th century and of the "Corelli Painting" falls within the framework of the bilateral Memorandum of Understanding between Italy and the U.S. recently renewed for the third time and was supported by the cooperation of the U.S. Authorities and of the Museums of Cleveland and Sacramento," Ambassador Varricchio added.
The Carelli painting, stolen from a private residence in Naples in 2001, later surfaced at a Pennsylvania auction house in 2014 and was sold to an art dealer in California. The Italian Carabinieri contacted Homeland Security Investigations, who along with their counterparts at U.S. Customs and Border Protection, were able to assist in returning the work to its rightful owner.
"CBP is honored to have played a role in returning these two magnificent pieces of art to Italy," said CBP Commissioner R. Gil Kerlikowske. "Being able to return these national treasures shows how important our collaboration and information sharing with our partners at ICE is. Together, we have been able to successfully return thousands of stolen artifacts and antiquities to their rightful owners."