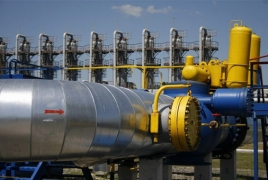 December 21, 2016 - 16:28 AMT
PanARMENIAN.Net - The World Bank's board of directors approved loans of $400 million each for Turkey and Azerbaijan, for the Trans-Anatolian Natural Gas Pipeline (TANAP) project late Tuesday, December 20, Anadolu Agency reports.
The loans will be supplied through the World Bank's subsidiary, the International Bank for Reconstruction and Development (IBRD).
Turkey's Petroleum Pipeline Corporation (BOTAS) will be in receipt of the loan in Turkey guaranteed by the Republic of Turkey with a maturity of 24 years.
In Azerbaijan, the Southern Gas Corridor (SGC) closed Joint Stock Company will obtain the loan with a guarantee from the Republic of Azerbaijan based on a 30 year maturity period.
Around $4 billion in external financing is anticipated for the $8.5 billion project, SOCAR's President Rovnaq Abdullayev said in previous interview with Anadolu Agency.
In addition to the World Bank, the Multilateral Investment Guarantee Agency, Asian Infrastructure and Investment Bank, European Investment Bank and European Bank for Reconstruction and Development are among the proposed supporters of the project.
"The slump in global oil prices and low commodity prices also gives the TANAP project an opportunity to shrink its budget and save up to $3.2 billion. Initially, the investment budget for TANAP was estimated at $11.7 billion, but with the help of low oil prices, we reduced our budget to $8.5 billion," TANAP General Manager Saltuk Duzyol said in an interview with journalists last week.
The TANAP project plans to be operational in 2018 with an initial capacity to carry 16 billion cubic meters (bcm) of Azeri gas through Georgia to Turkey. While 6 bcm will be for Turkey's domestic gas consumption, the rest is destined for transfer to Greece, Albania, and Italy and further into Europe.
Azeri energy giant State Oil Company of Azerbaijan (SOCAR) holds a 58 percent interest in TANAP, Turkey's BOTAS has a 30 percent share while BP owns a 12 percent stake.