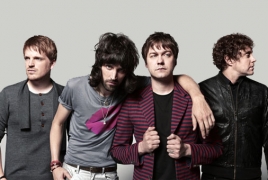 December 22, 2016 - 17:36 AMT
PanARMENIAN.Net - Kasabian are set for a huge return next year, announcing their first tour dates of 2017, according to NME.
The band are currently working on the follow-up to 2014's '48:13′. Having stormed Glastonbury in 2014 and their epic homecoming show to celebrate Leicester City FC's victory, fans will soon be able to get a first taster of new material.
Taking to Twitter, the band have announced a trio of summer shows in Italy for July 2017. More European and UK dates are expected to follow shortly.
Last month, rumours started to circulate that the band would be headlining Reading & Leeds 2017. When asked for a response to the rumours and the band's current activity, a Kasabian spokesman simply replied: "The band are currently finishing their new album."
Earlier this year, the band debuted new track 'Put Your Life On It'.
"Lennon said The Beatles version of rock & roll was their chair. So I thought 'Wow, I want to make my version of that chair,'" said guitarist Serge Pizzorno of their new record earlier this year, – adding that the album would be "going back to our guitar roots."
Frontman Tom Meighan added: "Serge played me the demos and I was 'Fucking hell!' It's nothing like '48:13'. There's no fucking interludes or any of that shit."
Meighan said new song 'Put Your Life On It' is "As good as 'Let It Be' – it'll make you cry", while 'Good Fight' is "Unbelievable, like a David Bowie song." Other songs scheduled for the new album include 'You're In Love With A Psycho' and '24/7'.