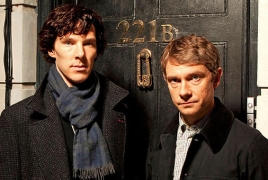 December 24, 2016 - 17:39 AMT
PanARMENIAN.Net - Christmas Eve means we're about a week and a day away from the highly-anticipated premiere of Sherlock's fourth season - and it's looking like the latest series of the BBC drama is going to be particularly rewarding for fans who've been meticulously combing through the show for details since its 2010 premiere, Digital Spy said.
This morning (December 24), BBC Breakfast aired a mini-Sherlock special, complete with interviews with the show's stars Benedict Cumberbatch, Martin Freeman, Amanda Abbington and creators Mark Gatiss and Steven Moffat, and they're all sticking to the same story that this series will bring together a number of different threads.
And, according to Cumberbatch, some of these threads are "remarkably long-term in their planning".
"We're getting pay-offs in this series that are to do with how this began," he adds.
"It's a much darker series," Amanda added. "It's very intense, and when we read the three episodes, all of us just went 'Ah! Oh my God!'"
"There are certain clues, or plot points or spoilers," Gatiss explained, "that we literally never write down in case they get out.
"They're never present in the script, so there's no danger of them being leaked."
All of this supports the information gleaned on the set of Sherlock earlier this year where Moffat guaranteed a proper resolution and climax at the end of this series, and Benedict reinforced that a full commitment to the series so far will yield big results.
"There are a huge number of pay-offs in this series," he said. "I think, in the past, you could get away with watching a few episodes in isolation, but this... they're vine branches in the jungle of Sherlock, you have to keep swinging from one to the next to really understand. And really... the pay-offs are massive if you do."
But as for that John Watson and Sherlock 'bromance'? Well, that's not going anywhere, with Martin Freeman actually tutting away the claims.
"It wouldn't be much of a show now if it was just a domestic bliss show, with John and Mary and their daughter," Martin said, before completely dismissing the idea that the bromance will be broken up.
"Not at all, not at all," he adds. "There's no way that this show could operate without that friendship going on."
So, whatever's in the store this series, at least John Watson and Sherlock are going strong, Digital Spy said.