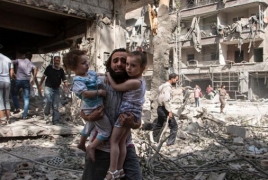 December 29, 2016 - 11:24 AMT
PanARMENIAN.Net - The fate of a reported nationwide truce for Syria was unclear Thursday, December 29, following talks between Moscow and Ankara, despite Turkish state media saying a deal had been reached, AFP reports.
The state-run Anadolu news agency said late Wednesday the agreed plan aims to expand a ceasefire in the city of Aleppo to the whole country, but neither Ankara nor Moscow confirmed the report.
The Aleppo truce was brokered by Turkey and Russia earlier this month to allow the evacuation of civilians and was hailed as a major turning point in the nearly six-year war.
If successful, the latest proposal would form the basis of upcoming political negotiations between Damascus and the opposition, overseen by Russia and Turkey in the Kazakh capital Astana, Anadolu added.
Ankara has hosted a succession of closed-door talks between Russia and Syrian opposition rebels over the last weeks.
Qatar-based channel Al-Jazeera said a new meeting was planned on Thursday in Ankara, this time between Syrian rebels, Turkey and Russia.
Ankara and Moscow have been on opposing sides in the Syrian civil war, with Turkey seeking the ouster of President Bashar al-Assad, who is backed by Russia and Iran.
But the two countries have recently started to cooperate more closely on Syria, especially after a deal to normalise ties battered by Turkey's shooting down of a Russian warplane last year.
Turkey remained conspicuously quiet as Assad's forces, backed by Russia, took control last week of Aleppo in the biggest defeat so far for the rebels.
The conflict began in 2011 as an uprising against Assad but quickly morphed into a civil war after the regime unleashed a brutal crackdown on dissent.
The war has killed more than 310,000 people and forced millions more to flee their homes.