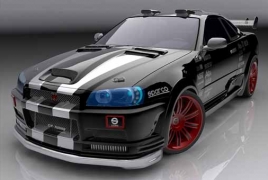 January 6, 2017 - 16:31 AMT
PanARMENIAN.Net - Nissan has big plans for self-driving cars, with as many as 10 autonomous-capable models due by 2020 (including the next Leaf), but according to CEO Carlos Ghosn, the tech can't cover every situation. To fill that gap, Nissan's solution is the Seamless Autonomous Mobility system (SAM). If the car's sensors and cameras detect an unexpected situation that is beyond what it has been programmed for (like a policeman directing traffic via hand signals), it will come to a stop and request help from a remote command center, Engadget said.
Like NBA or NFL refs making a call on a replay, a mobility manager observes the data and images provided by the car, then decides on the appropriate action and draws a safe path for the car to follow. After that, it's released to resume self-driving, and the idea is that with enough incidents, autonomous systems can eventually learn how to handle the unexpected on their own, Engadget said.
As Ghosn said at a roundtable event with reports "no matter how powerful it is, we always find a case where the car will be stuck. That's what we're learning from NASA." That's right, Nissan got the idea from NASA, where its Visual Environment for Remote Virtual Exploration (VERVE) software operates in a similar way, Engadget said.
The way Nissan sees it, SAM is for all cars, not just the ones it makes, so as Nissan Research Center director (and former NASA scientist) Maarten Sierhuis puts it "Our goal is to change the transportation infrastructure...What we are doing at Nissan is finding a way so that we can have this future transportation system not in 20 years or more, but now."