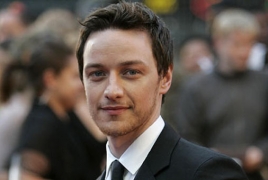 January 6, 2017 - 16:55 AMT
PanARMENIAN.Net - James McAvoy will play the role of Professor X again in "X-Men" spin-off "New Mutants". It's Anya Taylor-Joy, McAvoy's co-star in "Split", who accidentally confirmed the actor's involvement in "X-Men: The New Mutants". During an interview for M. Night Shyamalan's movie "Split", Taylor-Joy, who is rumored to play Magik, also hinted at Demon Bear as the "New Mutants" villain, AceShowbiz said.
Taylor-Joy said she had seen the recently-released New Mutants animatic featuring Magik, Wolfsbane, and Cannonball facing off against Demon Bear. "I have [seen the Demon Bear animatic], it's pretty cool," she told Coming Soon. "I'm a big fan so I'd love to be a part of it. I can't say very much, but I would love to be a part of it. I think this year's gonna be very exciting."
When asked if she would like to reunite with McAvoy in "X-Men: New Mutants", the actress answered, "I mean, I think James is already a part of it, isn't he?"
But it's not the only time an insider spilled the beans about the possibility of having McAvoy back as Professor X. Back in May, producer Simon Kinberg had basically confirmed McAvoy's involvement in the upcoming movie by telling Collider, "Right now, as the movie exists, Professor X would be a part of a New Mutants movie."
McAvoy's involvement might be good news for fans since many of "X-Men" movie stars had stated they would not star in future "X-Men" movies, AceShowbiz said. While Michael Fassbender said in a recent interview that he wasn't sure he would play Magneto again, his co-star Jennifer Lawrence, who played Mystique, had firmly said that she wouldn't play that role again.
Meanwhile, McAvoy stated during an interview with Fandango that he would consider returning to the "X" franchise if the crew gave him a really good part. He said he would always love to play Charles and if the movie continues, he would love to take part. Even though the star has given positive feedback, there's no confirmation about him joining the "New Mutants" lineup.