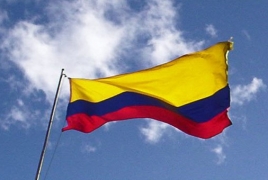 January 9, 2017 - 10:59 AMT
PanARMENIAN.Net - Peace talks between Colombia and the ELN rebels will resume next week after the group asked to postpone them in November, the government said Sunday, January 8, AFP says.
Negotiations with the leftist National Liberation Army (ELN) have stalled even as the government begins implementing a peace deal with the larger Revolutionary Armed Forces of Colombia (FARC).
"The resumption of talks to fix the date for installing the public roundtable will take place next Thursday, January 12 in Quito, Ecuador," the government's chief negotiator with the ELN, Juan Camilo Restrepo, said in a statement from Bogota.
He will head a special commission that will meet with ELN representatives to "seek formulas of understanding that will lead to the start of a public roundtable for talks," the statement added.
The government of President Juan Manuel Santos -- who won this year's Nobel Peace Prize -- was scheduled to launch open talks with the ELN in October after secret negotiations began almost three years ago in Quito.
But the talks broke down before they could start after the rebels failed to release an ex-congressman they took hostage in April. The ELN -- whose fighters the government estimates at 1,500 -- also demanded the government pardon two guerrillas.
The government said in late November that the rebels had asked for closed-door consultations set to begin next week over launching open talks.
Colombia is seeking an agreement with the ELN to achieve "complete peace" after sealing its historic deal with the FARC in November to end five decades of conflict.
Founded in 1964, the ELN is the last leftist guerrilla group involved in messy, multi-sided violence that has killed more than 260,000 people.