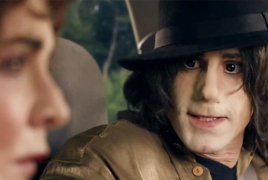 January 11, 2017 - 10:48 AMT
PanARMENIAN.Net - The first trailer for "Urban Myths" has been released by Sky Arts. The video features first look at Joseph Fiennes as Michael Jackson, Stockard Channing as Elizabeth Taylor and Brian Cox as Marlon Brando who are going on a road trip, AceShowbiz reports.
A scene shows Jackson suddenly saying, "I sensed danger!" Taylor, who's driving at that moment, replies, "You always had such keen senses, Michael." Giving a deadpan expression from the backseat, Brando chimes in, "Like when he sensed Prince was trying to kill his monkey through dreams."
The trailer also offers glimpses of other famous characters including singer and songwriter Bob Dylan (Eddie Marsan), British actor Cary Grant (Ben Chaplin), psychologist and writer Dr. Timothy Leary (Aidan Gillen), novelist Samuel Beckett (David Threlfall), Nazi leader Adolf Hitler (Iwan Rheon) and his friend played by Rupert Grint.
"Urban Myths" is an eight-episode comedy that will feature the story of Dylan and Dave Stewart hanging out in Crouch End, an 18 year-old Hitler attempting to get into art school and Grant who's taking LSD with Dr. Leary. The series also follows Salvador Dali who will be summoning Alice Cooper to sit for him, Beckett who's driving Andre the Giant to school, Muhammad Ali saving a suicidal man, and the Sex Pistols and the story behind their infamous expletive-filled TV interview which announced the arrival of punk rock.
The series also features one of the final performances of "Star Wars" actress Carrie Fisher. She plays a burger flipper in a diner that Jackson, Taylor and Brando visit.
"Urban Myths" debuts on Thursday, January 19 on Sky Arts.