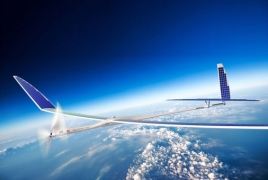 January 12, 2017 - 11:57 AMT
PanARMENIAN.Net - Alphabet cut former Titan drone program from X division, 9to5Google reports.
In 2014, Google bought Titan Aerospace, maker of high altitude, solar-powered drone aircraft. At the time Google noted, "It's still early days, but atmospheric satellites could help bring internet access to millions of people, and help solve other problems, including disaster relief and environmental damage like deforestation." Titan previously said that its drones could collect real-time, high-resolution images of the earth, carry other atmospheric sensors and support voice and data services.
The Titan division was absorbed into X in late 2015 from the Access and Energy division during the Alphabet re-shuffle. Since the pickup, Google has revealed other internal Drone-projects including project Black Rock and Project Wing delivery drones as well as a Tango-based prototype. Android ecosystem partners are also building their own drones albeit for more consumer purposes.
In mid-2015 Titan team experienced a crash in the Arizona desert which was in 2016 revealed to be a wing fault. Later last year, under the moniker 'Skybender' reports surfaced from Spaceport America in New Mexico that Google planned to use 5G technology to provide wide area internet, but the team there seemed to be experiencing significant problems.
Later, components were installed upside down or supplied by Google without the necessary shelves, nuts and bolts. Near the end of the build in October, Mike Bashore, information systems manager at Spaceport America, even emailed to his Google contact, "We want to run out to Home Depot for grounding straps." These are needed to protect sensitive electronics from static electricity. The nearest Home Depot hardware shop is over 100 miles from the Spaceport.
9to5Google has now heard and Alphabet has confirmed, that the Titan group was shut down and engineers were told to look for other jobs within Alphabet/Google in the coming months. Over 50 employees were involved in the process.
The Titan Team has been dispersing to other groups including the Project Loon effort, which similarly aims to distribute internet via high altitude balloons. An X spokesperson provided the following statement:
The team from Titan was brought into X in early 2016. We ended our exploration of high-altitude UAVs for internet access shortly after. By comparison, at this stage the economics and technical feasibility of Project Loon present a much more promising way to connect rural and remote parts of the world. Many people from the Titan team are now using their expertise as part of other high flying projects at X, including Loon and Project Wing.
As far as "Internet from the sky", Google also heavily invested in SpaceX in 2015 and with Fidelity owned 10% of the Elon Musk-founded Space company. A report earlier claimed that Google's investment would "support the development of SpaceX satellites that could beam low-cost Internet around the globe to billions who don't have it."