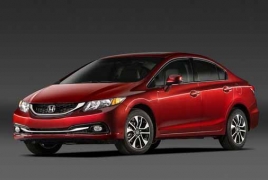 January 12, 2017 - 13:50 AMT
PanARMENIAN.Net - While autoparts maker Takata, works out a criminal deal with the U.S. Justice Department, the largest U.S. auto recall ever is still getting bigger. As Engadget reports citing the Associated Press, Honda Motor Company is recalling another 772,000 Honda and Acura vehicles with faulty airbags in the U.S..
The National Highway Highway Traffic Safety Administration initiated the recall, which now includes more than 42 million vehicles in the U.S. alone, after it was discovered that Takata's airbags could deteriorate over time and cause an explosion of hot metal shrapnel. So far, Takata systems have been responsible for 11 deaths and over 100 injuries around the world.
Although multiple automakers were using defective Takata hardware, Honda has been hit hardest by the recall, with more than 10.7 Honda and Acura vehicles affected. The latest recall includes model year 2005-2006 Acura MDX, 2005-2012 Acura RL, 2008-2012 Honda Accord, 2006-2011 Honda Civic, 2007-2012 Honda Fit, and 2010-2012 Honda Insight.
Takata is expected to pay a $1 billion financial penalty for criminal misconduct in the U.S. and Justice Department officials are reportedly investigating whether the company engaged in wire fraud by faking test data.