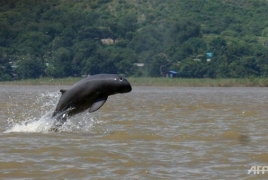 January 17, 2017 - 10:42 AMT
PanARMENIAN.Net - Tears fill Maung Lay's eyes as he describes losing the dolphin he knew since his childhood, the latest casualty of a battle against pollution and electrofishing that may see the species disappear in Myanmar. Loved for generations for corralling the catch into fishermen's nets, the 'smiling' Irrawaddy dolphins are being killed in record numbers by rogue gangs who use car batteries to stun aquatic life, AFP says.
The illegal technique now threatens to wipe out the dolphins and the tourist bonanza they promise.
Maung Lay's dolphin, known as Thar Gyi Ma, was found washed up on the banks of the river in November. When locals cut her body open, they found she was pregnant.
"She is irreplaceable because she's like my own parents. I'm heartbroken," the 55-year-old told AFP inside his bamboo hut, in a small village a few hours by boat from Mandalay.
"I laid wreaths and flowers for her by the river."
Irrawaddy dolphins can be found in rivers, lakes and seas across southern Asia, from the northwest Bay of Bengal, in India, to the south of Indonesia.
On this stretch of river in Myanmar the animals have developed a deep bond with local fishermen, who they work with in a generations-old partnership that has become the stuff of local folklore.
With careful choreography, locals call the animals using a throaty purr, splashing their oars and tapping on the side of the boat.
The dolphins signal they are ready to begin with a flick of a fin, before driving the fish towards the fishermen's boats where they are scooped up by waiting nets.
Maung Lay said he had spent more than 30 years fishing with one group of seven dolphins, led by Thar Gyi Ma.
"I'm sorry for the great loss because she's the leader of her group," he said sorrowfully. "The others are not skilled like her."