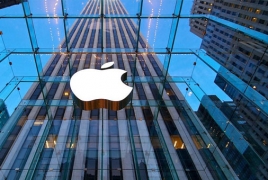 January 30, 2017 - 11:57 AMT
PanARMENIAN.Net - Silicon Valley took the lead over the weekend in corporate resistance to President Donald Trump's clampdown on immigration, financing legal opposition, criticizing the plan, as well as helping employees ensnared by his executive order, Reuters reports.
In an industry that has long depended on immigrants and celebrated their contributions - as well as championing liberal causes such as gay rights - there was little initial consensus on exactly how to respond to Trump's move on Friday, January 27.
But, while most in the tech industry stopped short of directly criticizing the new Republican president, they went much further than their counterparts in other sectors, who were mostly silent over the weekend. Most of the major U.S. banks and auto companies, for example, declined to comment in response to Reuters inquiries.
Trump ordered a temporary ban on travelers from seven Muslim-majority countries and a 120-day halt to refugee resettlement. The action triggered a global backlash, and sowed confusion and anger after immigrants, refugees and visitors were kept off flights and left stranded in airports.
Bigger companies such as Apple Inc (AAPL.O), Google (GOOGL.O) and Microsoft Corp (MSFT.O) offered legal aid to employees affected by the order, according to letters sent to staff. Several Silicon Valley executives donated to legal efforts to support immigrants facing the ban.
And Tesla Chief Executive Elon Musk and Uber head Travis Kalanick both said on Twitter that they would take industry concerns about immigration to Trump's business advisory council, where they serve.
Kalanick has faced opposition on social media for agreeing to be part of the advisory group. Kalanick in a Facebook post on Sunday called the immigration ban "wrong and unjust" and said that Uber would create a $3 million fund to help drivers with immigration issues.
Among those affected by the ban was Khash Sajadi, the British-Iranian chief executive of San Francisco-based tech company Cloud 66, who was stuck in London. Like many tech workers, he holds an H1B visa, which enables foreigners with special expertise to work for U.S. companies.
Sajadi said he hoped big tech companies such as Google and Facebook would take legal action to protect affected employees. That could help set a precedent for people in similar situations - but at smaller companies.
"Ultimately, I think them simply speaking up is not going to move the needle with people" who are not wealthy and do not live on the East or West Coasts, he said.