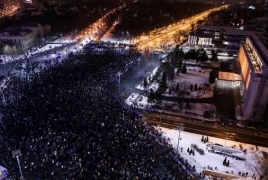 February 4, 2017 - 16:41 AMT
PanARMENIAN.Net - Romania's biggest protests since communism were set for a fifth day Saturday, February 4 with hundreds of thousands expected to demonstrate against what they see as a government retreat on corruption, AFP reports.
Demonstrators planned to gather in central Bucharest in the afternoon and march noisily with whistles, drums and vuvuzela horns in the national colours to parliament and form a human chain.
On Friday night an estimated 250,000 people demonstrated nationwide calling for the government to repeal decrees decriminalising certain graft offences and freeing corrupt officials from prison.
The scale of the protests came close to Wednesday night, the biggest since 1989 when people power toppled communist dictator Nicolae Ceausescu. He and his wife were executed on Christmas Day.
"The government wants to legalise white collar crime, which is really insidious," Sergiu, 43, a bank employee venting his anger at Bucharest's Victory Square, the epicentre of the protests.
Friday's protest in the capital, which drew around 100,000 people, saw effigies of the government officials in prison fatigues paraded through the crowds to jeers and shouts of "Thieves!".
Protesters acted as pallbearers for a coffin bearing the inscription "Romanian justice" carried through the crowd while others gave a rousing rendition of the national anthem.
"I am not a leftist, I am not rightist. My views are centre-right. But I want respect," said Armand, 34, an economist taking part.