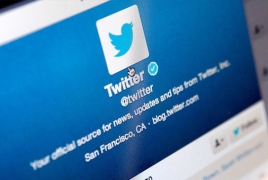 February 8, 2017 - 12:54 AMT
PanARMENIAN.Net - Twitter had a rough time in 2016, and it's not starting the new year off very well, either. The company's vice president of diversity and inclusion, Jeffrey Siminoff, is leaving at the end of the month, Engadget reports citing TechCrunch, while head of human resources Renee Atwood has already left. A Twitter spokesperson told Engadget that Atwood left for personal reasons, while TechCrunch's sources say Siminoff is also departing of his own accord. This follows a string of high-profile exits from the company in recent months, fueling concerns that trouble is brewing at the social network.
In addition to battling its troll problem and struggling to make money, Twitter has had trouble diversifying its predominantly white and male workforce. Its recently released diversity report shows it met its goals for 2016, but Twitter still has work to do on that front. The company was criticised when it hired Siminoff, a white male, as its diversity chief back in 2015, and his exit after the report's release seems like an interesting coincidence. However, Siminoff's recent tweet indicates that it's more likely he left to "pause for future change and loved ones."
Regardless of the reasons, it's evident that Twitter is having a difficult time retaining its top execs, which doesn't bode well for the company going forward. Its efforts to use livestreaming to turn its large user base into advertising dollars may be hindered by its inability to address its problems in a timely manner. At least its remaining execs now appear to be aware of their failings, which could mean a better shot at success.