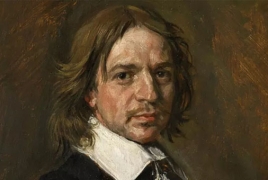 February 8, 2017 - 14:05 AMT
PanARMENIAN.Net - Sotheby's and art dealer Mark Weiss are heading to court in a dispute over an Old Master painting that the auction house alleges is a fake — a claim Weiss said he would "vigorously" contest, The Financial Times reports.
The auction house last year ordered pigmentation tests on "Portrait of a Gentleman", purported to be by the Dutch painter Frans Hals, after it became suspicious about its provenance. It had sold the painting, supplied by Weiss's gallery, to a US buyer in 2011 for £8.4m in a private sale.
After Sotheby's sent it for scientific tests to James Martin, a forensic art analyst, he concluded that pigments present in the painting showed it could not have been painted in the 17th century, when Hals was at work. Sotheby's subsequently reimbursed the buyer.
Sotheby's said it had launched proceedings in the High Court against Weiss and Mark Weiss Ltd in order to recover the payment they received from the sale.
"While we always prefer to settle matters without legal action, the sellers have refused to make good on their contractual obligations and we have been left with no other option than to take appropriate action to enforce our rights," Sotheby's said in a statement.
Weiss issued a statement saying that at the time of the sale the painting "was widely believed by all the leading connoisseurs to be a work by Frans Hals".
The statement said conservators consulted by the dealer believe "further testing should be carried out before the assertion that this work is a modern fake can be definitively made".
It added that Sotheby's had refused to give Weiss's experts access to the painting.
Weiss said he intended "to contest the claim vigorously".
Sotheby's forgery claims caused a sensation last year in the market for Old Masters, which relies on judgments of authenticity from connoisseurs, academics and museums. It was not the only Old Master to have its authenticity questioned: Sotheby's last month filed an action in New York to reclaim money received by the supplier of "Saint Jerome", a painting purported to be by the 16th century artist Parmigianino.
That painting's authenticity had also been challenged by Martin's company, Orion Analytical, which was later bought in December by Sotheby's in a move designed to bolster its ability to spot forgeries.
Fairlight Art Ventures is also a defendant in the Hals claim but could not immediately be reached for comment.