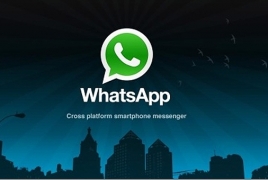 February 21, 2017 - 13:33 AMT
PanARMENIAN.Net - Facebook's WhatsApp has cloned Snapchat's popular stories format and is using it to replace its old text-based status messages. The feature began rolling out to WhatsApp's billion-plus users on Monday, February 20 on Android, iPhone, and Windows Phone, The Verge says.
As on Snapchat, WhatsApp stories are posted from an in-app camera. Once you've taken a photo, you can adorn it with drawings, text, and emoji. Once you post your story, it appears in a new "status" tab, where your contacts can view it for the next 24 hours. You can reply to friends' updates directly from the post.
WhatsApp becomes the fourth Facebook product to clone Snapchat stories. Instagram was the first, in August. It was followed by Facebook Messenger and then Facebook itself, both of which are still testing the feature in a small number of countries. WhatsApp is Facebook's second product to roll the feature out globally.
WhatsApp positioned the update as a gift to users on its 8th birthday, and a kind of symbolic return to its origins. "When WhatsApp launched nearly 8 years ago (on February 24), it started as an app for sharing status updates, where people could type a short line of text to let their friends know what they were up to," the company said in a blog post. "When we noticed people were using the feature to communicate in real time, we redesigned WhatsApp as a messaging app."