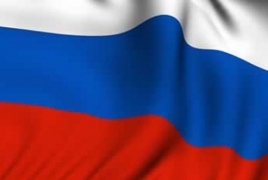 February 21, 2017 - 19:11 AMT
PanARMENIAN.Net - Russia will continue to see the development of its nuclear forces as a top priority, but the military will rely increasingly on conventional weapons to deter any aggression, the Russian Defense Minister said Tuesday, February 21, according to The Associated Press.
Sergei Shoigu said Tuesday that weapons such as the long-range Kalibr cruise missiles carried by navy ships, long-range cruise missiles carried by Russian strategic bombers and the land-based short-range Iskander missiles will play an increasingly important role as a non-nuclear deterrent. Those missiles can carry nuclear or conventional warheads.
Shoigu pointed to the new missiles' debut in the Syrian conflict, saying they have proven themselves well.
"The development of strategic nuclear forces will remain an unconditional priority," Shoigu said in remarks carried by Russian news agencies. "Russian nuclear weapons ensure the guaranteed deterrence of aggression by any foreign power."
At the same time, he added, "the role of nuclear weapons in deterring a potential aggressor will diminish, primarily thanks to the development of precision weapons."
Until recently, Russia lacked long-range cruise missiles with conventional warheads similar to those in the U.S. inventory.
The post-Soviet economic meltdown left the Russian armed forces in disarray, but the Kremlin has beefed up the military's conventional forces in recent years amid tensions with the West.
Speaking at a conference on security issues, Shoigu described China as a key strategic partner for Russia and noted that Moscow has signed a contract to provide China with anti-ship missiles. He didn't offer any details of the deal, which follows other recent contracts that envisage the delivery of top-of-the line S-400 air defense missiles and Su-35 fighter jets to China.
Shoigu criticized NATO for identifying Russia as a threat and deploying forces near its borders, but added that Russia remains open for a security dialogue with the alliance.
He described the global situation as increasingly unstable and accused the West of spreading chaos by supporting regime change in the Middle East and North Africa.
"International relations are becoming increasingly tense," he said, noting increased competition for mineral resources and control over their transportation routes.
Last month, Shoigu had a phone call with Libya's Field Marshal Khalifa Hifter, who visited the Russian aircraft carrier returning from a mission off Syria's coast. The visit marked the strongest sign yet of Russian support for Hifter, who is allied with an eastern-based parliament that is at odds with a Western-backed government in the capital, Tripoli.
Shoigu lashed back at British Defense Secretary Michael Fallon, who warned Russia against meddling in Libya and said that "we don't need the bear sticking his paws in."
"We don't think there is an animal in their zoo that could give orders to the bear," Shoigu parried.