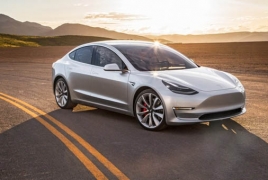 February 23, 2017 - 14:45 AMT
PanARMENIAN.Net - Tesla Motors released its fourth quarter 2016 earnings report to shareholders, and for the most part things look good in the world of Elon. Despite missing a few expected targets, on average the company performed as or better than expected, even with the controversial acquisition of Solar City, Autoblog reports.
Revenue for the quarter was expected to be $2.201 billion with a loss of $0.13 per share, but Tesla delivered a higher revenue $2.284 billion, but missed with a loss of $0.78 per share. Full-year revenue was up 73 percent over 2015 at $7 billion. The company's cash balance grew by $300 million.
On the production front, Tesla expects to sell up to 50,000 Model S and X vehicles combined in the first half of 2017. That could mean up to a 71 percent improvement over the first half of 2016. The company also told investors that battery production has started at the new Gigafactory, and that Model 3 production is still on track for July with full-scale production starting in September. That means some owners should expect to see their cars by the end of the year, Autoblog said.