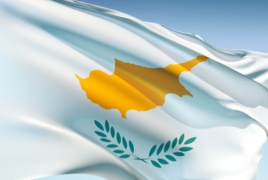 February 23, 2017 - 16:39 AMT
PanARMENIAN.Net - The United Nations said Thursday, February 23 it was working to get negotiations to reunify ethnically split Cyprus back on track, after the latest round of scheduled talks were called off over a controversial Greek Cypriot schoolroom commemoration, The Associated Press reports.
The UN said in a statement that envoy Espen Barth Eide is working with the rival leaders of the ethnically split island who have "stated their commitment" to the 22-month peace process. New meetings between breakaway Turkish Cypriot leader Mustafa Akinci and President Nicos Anastasiades, a Greek Cypriot, will be announced "in due course," said the UN
Cyprus was divided in 1974 when Turkey invaded following a coup by supporters of union with Greece. A Turkish Cypriot declaration of independence is recognized only by Turkey which keeps over 35,000 troops in the north.
Thursday's scheduled meeting was scrapped after Akinci withdrew over recent legislation making the commemoration of a 1950 vote for union with Greece compulsory in Greek Cypriot schools.
Cypriot Foreign Minister Ioanis Kasoulides said it's up to Akinci to get back to talks, which haven't made any progress in weeks because of what he said was the Turkish Cypriot side's hardened stance.
Akinci, in turn, accused the Greek Cypriots of reluctance to give ground on the Turkish Cypriot demand for sharing the presidency in a federated Cyprus and equal representation in decision making bodies.
Akinci said in a statement that any progress in nearly two years of talks was owed to the Turkish Cypriot side's "great effort and constructive stance."