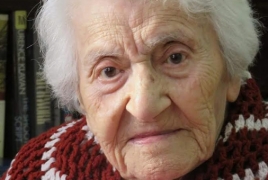 February 25, 2017 - 15:26 AMT
PanARMENIAN.Net - Canadian outlet The Globe and Mail published an article in memory of Knar Yemenidjian, survivor of the Armenian Genocide.
She was one of Canada's last living links to an atrocity that occurred more than 100 years ago. Although Knar Yemenidjian, who died on Jan. 19, reached the age of 107, her childhood was marred by unfathomable violence that nearly ended her life.
"We're all grieving with the family," Armen Yeganian, Armenia's ambassador to Canada, commented after Ms. Yemenidjian's death. "But she was also a bigger symbol, I would imagine, for the Canadian Armenian community and for Armenian people in general."
She was born Knar Bohjelian on Feb. 14, 1909, in Caesarea, a city in central Turkey now known as Kayseri. Less than a year earlier, a group of Turkish reformers known as the Young Turks overthrew Sultan Abdul Hamid and established a constitutional government. Although the Armenian population of Turkey was initially optimistic about the new regime, they were caught off guard by the xenophobia of the Young Turks and their targeted hatred aimed at Christians and non-Turks who they believed were a threat to the Islamic, "pure Turkish" state they envisioned.
When the Young Turks began their campaign of mass murder on April 24, 1915, the first order of action was arresting and executing several hundred Armenian intellectuals. After that, other Armenians were either systematically slaughtered by marauding killing squads or forced on death marches across the Mesopotamian desert without food or water.
Six-year-old Knar and her family survived the first wave of violence by seeking sanctuary in a barn. Ms. Yeminidjian's niece Nazar Artinian told CTV News that the family survived only because Knar's father had been warned by a Turkish friend that "all the Armenians were going to be killed."
According to Ms. Artinian, the family friend insisted, "if you want to live, leave your house, take your family and go to this farm and hide yourselves there." So the family hid among the livestock. They were besieged by typhoid and had barely enough food to sustain themselves, but they survived.
When the violence subsided, Knar and her family returned to find many of their neighbours murdered, and all the Armenian homes – including theirs – burned to the ground.
The family's only hope for continued survival was converting to Islam. So, after they left the barn they adopted Turkish names and Muslim identities. Ms. Artinian said that a great aunt convinced them that it was their only salvation. "It is better to change your religion and live longer than remain Christians and die." So they rebuilt the family home and lived under Muslim identities in Caesarea for 10 years.
As the genocide continued, Knar got older and began attracting potential suitors. During the family's remaining years in Turkey, however, her father refused all requests for her hand.
Once a ceasefire was established, the family fled the region. They travelled to Ankara in 1928, then Istanbul. Eleven months later, they headed to Greece by boat before immigrating to Alexandria, Egypt.
Even after they settled into their new home, Knar's father continued to reject the suitors who pressed for his permission to marry her. Joseph Yemenidjian, Ms. Yemenidjian's son said that his grandfather insisted that she marry into a respectable family. In the end, his prudence paid off. "My mother was 34 when she finally met my father, who had a family member who was already connected to my mother's family via marriage." Once the family patriarch deemed Jean Yemenidjian acceptable, the couple married in 1943.
The couple lived happily in Egypt until 1956, when the Armenian community in Egypt once again found itself the scapegoat as a result of the Suez Canal crisis.
Arab nationalism swept the country, inciting rage and intimidation that was directed at Armenians. As a consequence, Ms. Yemenidjian's two sons, Joseph and Noubar, left for Canada and settled in Montreal.
While paying a visit to Montreal during Expo 67, Ms. Yemenidjian was wooed by the city's charms, and the couple settled there permanently in 1971.
At the age of 106, Ms. Yemenidjian was among a handful of Armenian-Canadians who attended a special ceremony on Parliament Hill in 2015 to mark the centennial of the start of the genocide.
To this day, despite widespread agreement among historians, the Turkish government denies that an Armenian Genocide occurred. Since 2003, Turkish teachers have been forbidden to use the term "genocide" in the classroom.
Knar Yemenidjian leaves her two sons, Joseph and Noubar, three grandchildren and five great-grandchildren.